Date/Time
Date(s) - February 25, 2021
5:00 pm - 6:30 pm
Categories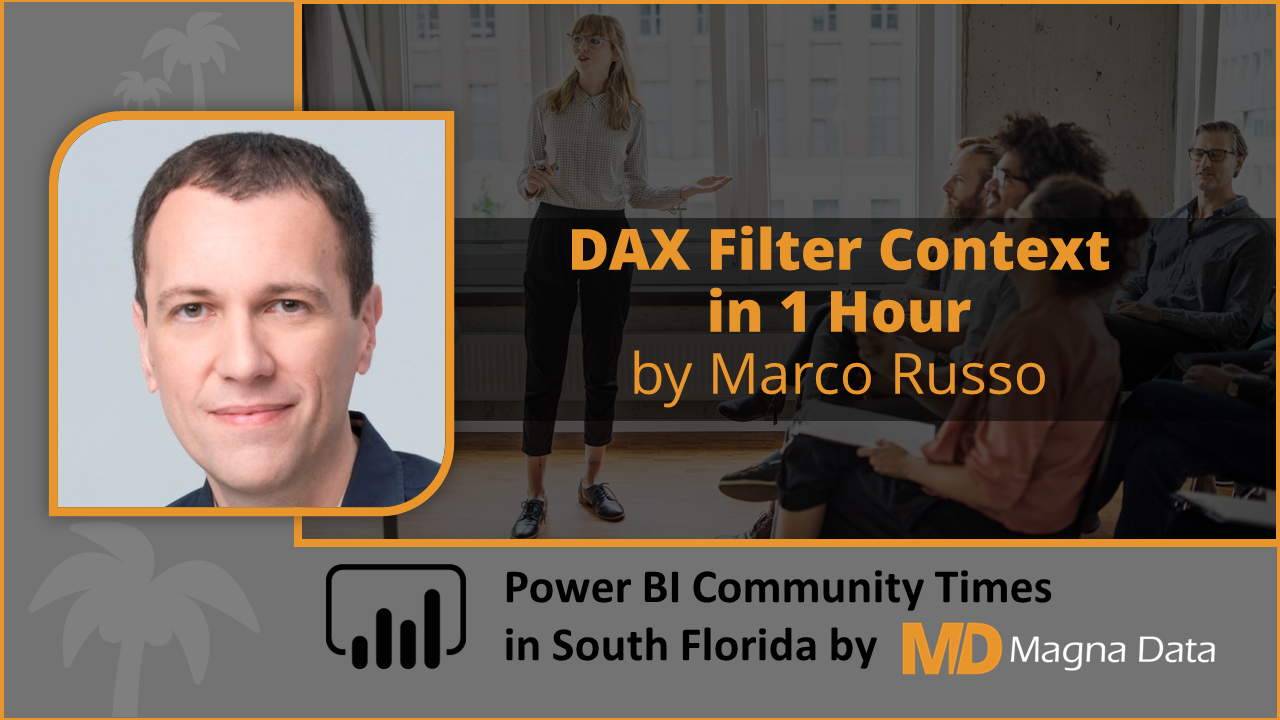 Thursday, February 25th, 2021
2PM PDT / 4PM CDT / 5PM EDT [US Time]
Online – Microsoft Teams Meeting
Power BI Community Times in South Florida 2021 receives the DAX Guru Marco Russo visit from Italy to help us understand DAX Filter Context!
Be sure to check out his DAX Puzzle Challenge on Saturdays via Twitter! and his Blog for more content: https://sqlbi.com/blog
Join us for a learning & sharing knowledge experience in a warm+friendly environment.
Session:
DAX Filter Context in 1 Hour
Understanding evaluation contexts is the key to understand DAX and to start thinking in DAX. In this session we will start from the basics of evaluation context and explain in depth the role of filter context and row context in DAX expressions, providing several examples of formulas where following the flow of contexts in the correct way is mandatory to make a sense out of the numbers computed.
At the end of the session you will have a clearer idea of the importance of evaluation context and you will probably look at your DAX code in a different way.
Guest Speaker:
Marco Russo
Marco is a business intelligence consultant and mentor. He first started working on Analysis Services in 1998, back when Analysis Services was known as OLAP Services.
A veteran of end-to-end projects, Marco wrote several books with Alberto Ferrari about Power BI, Analysis Service, and Power Pivot. They also regularly write articles and white papers that are available on sqlbi.com. Marco is a Microsoft MVP and an SSAS Maestro, the highest level of certification on Microsoft Analysis Services.
Today, Marco focuses his time with SQLBI customers, traveling extensively to train and consult on DAX and data modeling for Power BI and Analysis Services. Marco also teaches public classes worldwide.